APRS/Packet/WinLink
Details

Hits: 13634
This page is intentionally in Italian.
APRS
Sono veramente tante le pagine Web che spiegano cosa è l'APRS (Automatic Packet Reporting System) tanto che non sto qui a dilungarmi sulla spiegazione di questo sistema digitale adottato ormai da più di 10 anni dai radioamatori di tutto il mondo.
Il KWOS, oltre che avere un digipeater e internet gateway in VHF e UHF, ha anche un digipeater e internet gateway in HF. In particolar modo, fa parte del Robust Packet
Network. Questo Network utilizza dei modem della ditta SCS, che hanno delle ottime performances in HF. Per maggiori informazioni visitate il sito ufficiale.
La frequenza di monitor più utilizzata nel network è 10147.30 kHz USB. Se decidete di farne parte, acquistando un modem Robust Packet, vi ricordo che essendo un network APRS in HF, è obbligatorio utilizzare solo il WIDE1-1 per i mezzi mobili e per l'apertura di un Gateway o IGate, conviene prima chiedere sul gruppo Yahoo.
I gateway e digipeaters nel network sono veramente pochi ed hanno una configurazione particolare atta a non creare traffico inutile.
Qui a sinistra vi è uno screenshot effettuato ogni 5 minuti, del PC su cui gira il software UI-View utilizzato per il Robust Packet. La schermata da vedere è quella a sinistra e sotto vedete anche il terminale con il passaggio delle stazioni ricevute dal Gateway IR0UGN-10. Per via delle condizioni di propagazione della banda 30metri, durante il giorno è possibile ascoltare stazioni europee e durante la prima parte della notte, è possibile ascoltare stazioni degli USA.

Per darvi un'idea della bontà della modulazione Robust Packet, qui sotto un esempio di collegamento a grande distanza:
Interested in HF APRS? Stephen WA8LMF has some great pages at:
http://wa8lmf.net/aprs/HF_APRS_Notes.htm
http://wa8lmf.net/APRS_PSK63/index.htm
---
Per testare al meglio il digi/igate, è stato allestito in auto un setup mobile APRS:
YAESU FTM-400 per VHF/UHF con modem interno; SCS-Tracker, YAESU FT-991, antenna ATAS-120 per HF Robust Packet
WINLINK
Il KWOS è attivo anche in WINLINK. E' un sistema mondiale composto da numerosi server per lo scambio di E-Mail via radio diretti alla rete Internet e vice versa. Winlink 2000 è un servizio importante per le comunicazioni di emergenza ed in caso di calamità durante le quali sul luogo dell'evento venga a mancare o non sia disponibile la rete Internet, si può creare una rete radioamatoriale per scambio messaggi. Winlink 2000 può risultare utile anche ai radioamatori situati in località molto periferiche, non servite da reti di telecomunicazione, per poter dialogare con altri radioamatori (esempio: in montagna, in barca/nave, isole, nel deserto, ecc..)..
Una guida molto ben fatta da cui ho estratto anche questa introduzione, è quella redatta da Andrea Fracassi - IW2NTF. Vi consiglio di leggerla con attenzione se volete utilizzare il servizio Winlink.
Un guida molto più completa, che spiega anche la struttura del network WINLINK, la trovate sul sito di WX4J ARES(R)/NT.
Se poi conoscete l'inglese potete guardarvi gli ottimi video di K4REF caricati su youtube.

Per chi ha solo un apparato APRS, è possibile utilizzarlo anche per ricevere email dal sistema WINLINK. Da tempo è attivo un link tra WINLINK e APRS.
PACTOR
Vista l'esperienza fatta con il Robust Packet ed i modem SCS, ho voluto provare anche il sistema digitale PACTOR. Ho subito trovato gente molto disponibile nello spiegare l'utilizzo ed il protocollo. Voglio ringraziare I0BLC Lamberto, F3KT Michel, UT1HZM Sergej ed ovviamente mio fratello Marco IW2OHX con il quale sto condividendo questa esperienza.
Molte informazioni le ho lette sulla pagina di AE4TM Edwin e su quella di GB7CIP.
PACTOR IV's 10 speed modes:
ARDOP
Il nodo BPQ/Winlink è stato configurato per accettare connessioni in ARDOP. Questo protocollo digitale, come spiegato anche sulle pagine di WinLink, è stato sviluppato da radioamatori secondo la filosofia Free. Verrà a breve utilizzato al posto del Winmor da tutto il sistema Winlink.
Qui accanto la configurazione del Virtual TNC utilizzato su IR0UGN
If you are interested in ARDOP, you can follow the discussion on the forum.
VARA
Il gateway Winlink, in via sperimentale, è stato configurato anche con un nuovo modem ad alta velocità per l'HF, chiamato VARA. Questo software è stato sviluppato dallo stesso autore di ROS: EA5HVK.
Il VARA modem integra lo stato dell'arte della tecnologia militare e dei trasferimenti dati via HF. La tecnologia OFDM è l'unica via per avere un alto transfer rate ed un assenza di errori con livelli signal/noises più bassi di un qualsiasi modo convenzionale.
Permette un User Data Rate non compresso fino a 5629 bps ad un basso S/N 14.5 dB @ 4kHz

Il software VARA integra sia la versione Client (utilizzabile con RMS) che quella Gateway, già predisposta per collegarsi automaticamente con la rete WINLINK.
Su questi due video creati da Matjaz S57MK potete osservare le differenze con WINMOR:
modi ARQ (PSK-BPSK-MFSK-QPSK)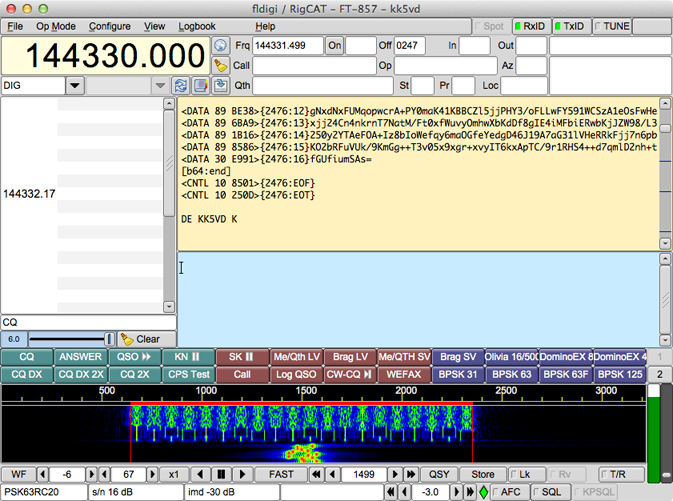 Un'altra possibilità con cui è possibile accedere al gateway IR0UGN è utilizzare una modulazione FSK munita di tecnica ARQ (automatic repeat request) in modo da avere una comunicazione più robusta. Il nodo G8BPQ permette il collegamento al software FLDIGI e quindi da lui eredita la possibilità di trasmettere con i modi digitali PSK-BPSK-MFSK-QPSK, ecc.
Il software FLDIGI nel pacchetto d'installazione contiene anche un software chiamato FLARQ che permette l'invio di email e files via radio. E' possibile anche utilizzarlo con IR0UGN.
PSKmail
PSKmail is a narrow band arq system for use by amateur radio hams via sho
rt wave (HF) communication. It does not use a special controller, you just need a computer with a sound card.
The PSKmail server uses the fldigi program as a modem, and can use PSK, MFSK and THOR modes, including the new robust PSK modes which include soft viterbi decoding and interleave to increase immunity to qrm and qrn. The client is written in java, and has the modems built in. The operator can choose several modes and speeds when starting a connection, to match channel conditions.
The system uses asymmetric adaptive mode control to use the channel capacity efficiently. When channel quality changes during a connected session the system changes speed to accommodate the new circumstances.
PSKmail has a client/server architecture. Unlike Packet Radio the PSKmail protocol only allows 1 connected client at the time. Bandwidth (3dB) using the maximum speed (PSK500) is max. 500 Hz, providing a net throughput of ~2600 characters/minute including ARQ overhead.
Pskmail is predestined for emergency communications. Even if the local internet is down, the long range on HF guarantees a connection to the internet. And it is child's play to set up an ad hoc server.
For mode informations:
CLOVER 2000
Grazie all'azienda HAL Communications di Joe (K9SZ), il gateway/BBS IR0UGN può comunicare in CLOVER 2000.
CLOVER is a digital communications mode that conveys 8-bit digital data over narrow-band high-frequency radio. It can also transfer ASCII text and executable computer files without using the additional control characters required in other digital modes, which decrease throughput. It measures signal conditions, and automatically changes modulation format and data throughput to match current link quality. Reed-Solomon data encoding provides forward error correction (FEC) within each data block to repair many errors without the need for retransmission.
Per maggiori informazioni visitate il sito della ARRL o Signal Identification Wiki.
CLOVER-2000 uses 8 250 Hz wide tone-pulse subcarriers that are each offset from the base tone by 2ms, so that every 16ms all eight tone pulses transmit their cycle. CLOVER-2000 uses Phase (PSK) or Phase-Amplitude (Circular QAM) shift keying modulation. CLOVER-2000 occupies 2 kHz of bandwidth in contrast to CLOVER-II's 500 Hz of bandwidth. The symbol rate for CLOVER-2000 is always 62.5 bd for all modes, double the symbol rate of CLOVER-II.
Mode
Description
Data Rate

ARQ

/

FEC

Support
16P4A
16-Phase 4-Amplitude Modulation (64-

QAM

)
3000

bps

Max

ARQ

&

FEC

8P2A
8-Phase 2-Amplitude Modulation (16-

QAM

)
2000

bps

Max

ARQ

&

FEC

8PSM
8 Phase Shift-Keying Modulation (

8-PSK

)
1500

bps

Max

ARQ

&

FEC

QPSM
Quadrature Phase-Shift Keying (

QPSK

)
1000

bps

Max

ARQ

&

FEC

BPSM

BPSK

Binary Phase-Shift Keying (

QPSK

)
500

bps

Max

ARQ

&

FEC

4DPSM

BPSK

with 4-Channel Redundancy
250

bps

Max

FEC