Seismic activity
Thanks to an Infiltec QM-4.5LV Seismometer I can detect earthquakes.
The Infiltec Model QM-4.5LV Seismometer is designed for school, office, field, and home use. It records and displays worldwide earthquakes in a compact, portable, and rugged package that is less expensive and easier to use than conventional designs. The QM-4.5LV has an internal vertical geophone sensor and custom electronics to detect seismic signals from local and worldwide earthquakes. The QM-4.5LV does not require any external power supply or assembly or enclosure or adustment; including alignment, damping, zeroing, etc. The QM-4.5LV works with the standard AmaSeis Windows XP/V/7/8/8.1/10 based software, and its sensitivity is similar to the standard educational AS1 seismometer. It also works with the new jAmaseis software for Windows, Linux and Mac OS.

---
SHORT PERIOD Real-Time Display of QM-4.5LV Data
(press F5 to refresh - image updates every 5 min)
Display that emphasizes nearby quakes and local noise. It is generated by AmaSeis software bandpass filtering to a short period (0.5Hz/2sec to 1.0Hz/1sec) band. With a decimate factor of 30 only one in 10 points is displayed.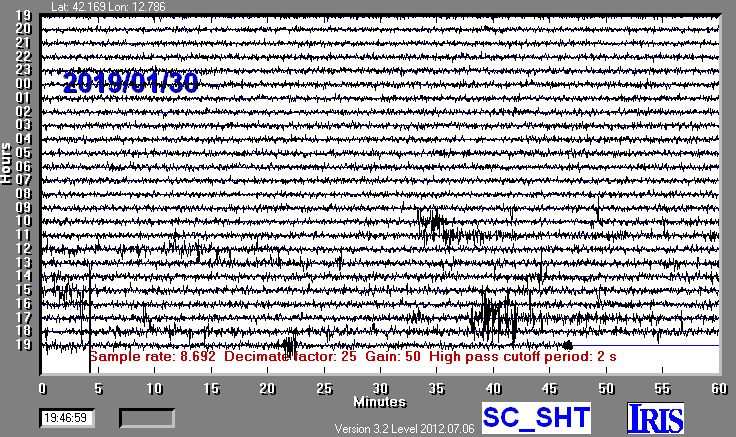 ---
LONG PERIOD Real-Time Display of QM-4.5LV Data
(press F5 to refresh - image updates every 5 min)
Display that emphasizes distant quakes. It is generated by setting AmaSeis software bandpass filtering to a long period (0.04Hz/25sec to 0.10Hz/10sec) band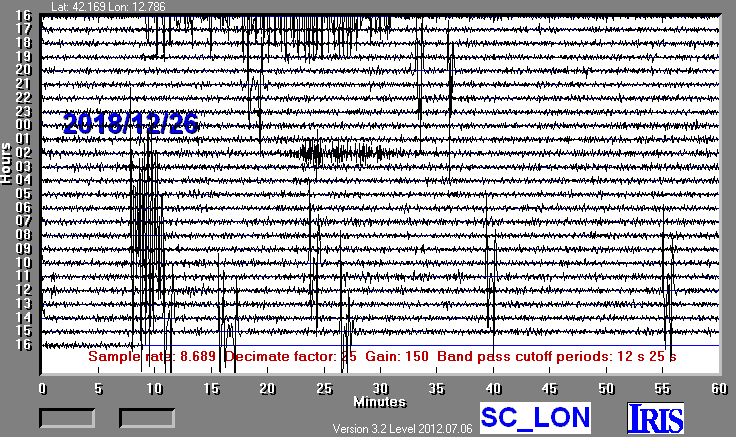 ---
Some important pages about seismic activity in Italy