Seismic activity
Thanks to an Infiltec QM-4.5LV Seismometer I can detect earthquakes.
The Infiltec Model QM-4.5LV Seismometer is designed for school, office, field, and home use. It records and displays worldwide earthquakes in a compact, portable, and rugged package that is less expensive and easier to use than conventional designs. The QM-4.5LV has an internal vertical geophone sensor and custom electronics to detect seismic signals from local and worldwide earthquakes. The QM-4.5LV does not require any external power supply or assembly or enclosure or adustment; including alignment, damping, zeroing, etc. The QM-4.5LV works with the standard AmaSeis Windows XP/V/7/8/8.1/10 based software, and its sensitivity is similar to the standard educational AS1 seismometer. It also works with the new jAmaseis software for Windows, Linux and Mac OS.

---
Real-Time Display of QM-4.5LV Data
(press F5 to refresh - image updates every 5 min)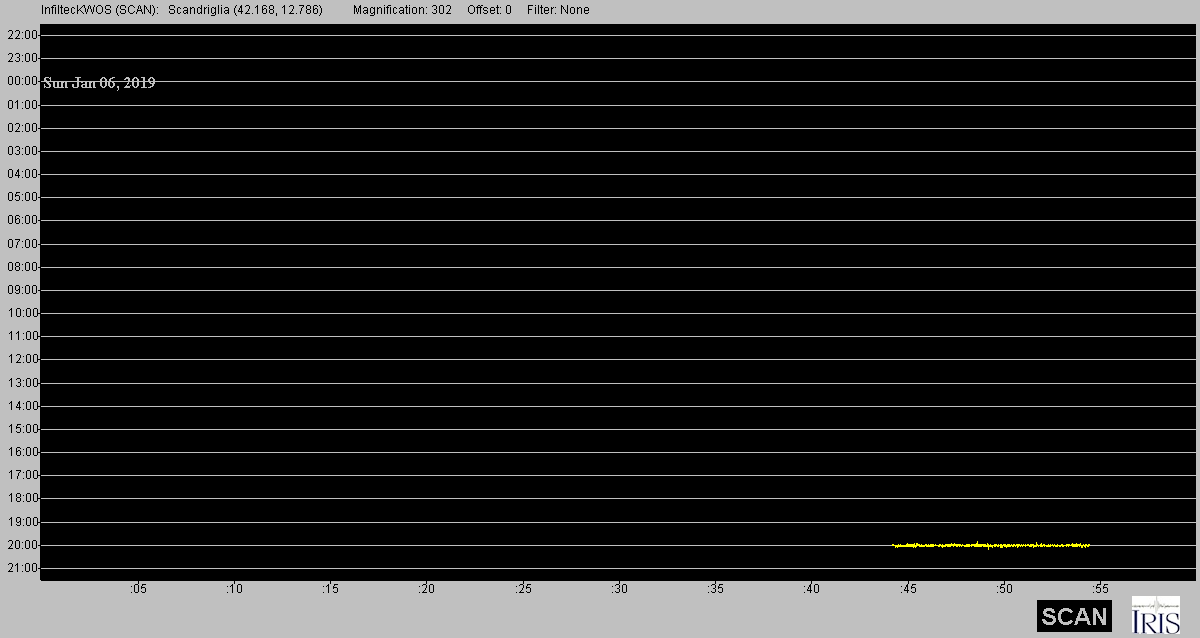 ---
Vengono utilizzati quattro colori: fucsia, giallo, arancio e rosso.
Fucsia che come potete vedere determina i sismi vecchi oltre i cinque anni e in ogni caso tutti quelli presenti nel database, con questo colore si può notare principalmente le zone di massima frequenza sismica.
Giallo che evidenzia le scosse telluriche relative a un periodo oltre le due settimane.
Arancio che evidenzia gli eventi di ieri.
Rosso che descrive gli ultimi terremoti, quelli riguardanti la giornata odierna.
Ancora una considerazione da fare, il magnitudo viene descritto con il diametro del cerchietto (solo per il giallo, arancio e rosso), da magnitudo 4 (circa 3 mm. circa) fino a magnitudo 8 (12 mm. circa).
Some important pages about seismic activity in Italy