IR0UGN-8 PSKmail server
Dettagli

Visite: 162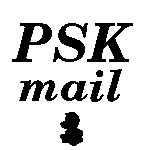 IR0UGN-8 is a PSKmail server on 10.148MHz (10.147 Dial). PSKmail is a narrow band arq system for use by amateur radio hams via short wave (HF) communication. It does not use a special controller, you just need a computer with a sound card.
Pskmail is predestined for emergency communications. Even if the local internet is down, the long range on HF guarantees a connection to the internet. And it is child's play to set up an ad hoc server.

IR0UGN-1 PSAT-ISS iGate: active
Dettagli

Visite: 569
To be active on APRS like an iGate for the ISS (International Space Station) and PSAT (ParkinsonSat), I moved the IR0UGN-1 on a TS-480HX in order to leave the TS-2000 for tracking the ISS.
It's possible to find latest news about the ISS on the page ISSFunClub and it's possible to find latest ham radio contacts on Ariss.
Meteorology
Dettagli

Visite: 3310
KWOS is participating to the Microsferics project!​ Look the result on the Real Time Weather page.

Microsferics Lightning Detection Network, MicroLDN, is a low cost, high accuracy experimental lightning detection network currently operating in parts of Europe and North America.
By using off-the-shelf electronic components and custom designed signal amplifier electronics we created a GPS disciplined time-stamping device for the Boltek range of lightning detectors, making them capable of networked lightning locating using the signal Arrival Time Difference locating method.
Winlink, APRS, BPQ Gateway
Dettagli

Visite: 1310
The IR0UGN Gateway now is a full BPQ node on HF. Browse via web the hamradio bulletins with OpenBCM BBS.
It is also a Winlink gateway available in Winmor, ARDOP, Pactor, Robust Packet, BPSK250 and much more modes.
IR0UGN is also an APRS Gateway on 432.500 MHz with an WX3in1 Plus 2.0 and on 10.14730 MHz with Robust Packet 600Bd modulation.